From GEN 2 to GEN10, deposition processes related to OLED TV and AMOLED smartphones/tablet screens requiring large size heating plates having better temperature uniformity requirements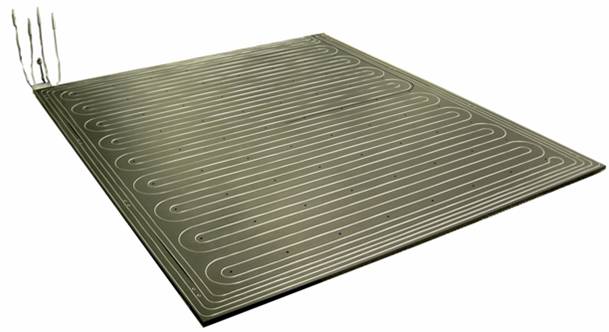 Long length heaters to avoid connections inside the plates
Custom heating cables to match the thermal profile better
Heating plates in Aluminium, Stainless steel, Inconel
Custom made connectors
SELECT YOUR THERMAL SOLUTIONS :
GEN2 to GEN10 Plates
KEY SOLUTION PARAMETERS
Advanced thermal modelling during prototyping 
Flatness optimization by lowering susceptibility to internal stress
True long length cold end heaters = no internal connections
Very high temperature THERMOCOAX ceramic metal connectors (650°C)
THERMOCOAX GEN2 to GEN10 FPD Suceptors
One of the critical step in the manufacturing process of high resolution screens is the deposition of the active matrix components, the temperature uniformity of the substrate during deposition being a critical parameter.
THERMOCOAX developed several types of plates, made from aluminium to carbon/carbon 3D plates using MI cables
Working temperatures :

Aluminium to 350°C
Stainless steel and copper: to 450°C
Custom design for  500°C and above
Temperature uniformity <1% ( depends on chamber environments )
Internal plates manufacture engineered to optimize  thermal conductivity between the heating elements and the plates
Long length heaters ZEZ cold end heaters
Applicable for production of high resolution screens and AMOLED
Robust and cost effective (MTBF field references since 2005)
Suitable for use in air, plasma, high pressure, high frequency or ultra-high vacuum environments
 OLED Shower
Custom made heater (sheath/geometry/length)
Small diameter heater/bending radius allowing a match to any shape or profiles
THERMOCOAX OLED Shower
Applications : OLED display / Lightning
To apply organic layer onto a substrate, the evaporator is used to vaporize the material with temperature up to 600°C. OLED future is developping toward CFL ( Cross Faded Layer ) superposition leading in complex thermal control solutions
THERMOCOAX has the capability ( Brazing, tIG welding, laser welding, cable production, assembly, etc..) to manufacture the complete application : heater+sensor brazed onto the shower
Cold End Mineral insulated cable heaters, single core, dual core or single core with coiled core design for applications requiring low power within a small space
Expertise in providing custom size, shape and material thermocouples/heaters
Manufacturing process fully controlled : traceability, subcontractor assessment, internal and external audits, regulatory compliance)
Project management for large production programs
Compactness : Heater with integrated thermocouple within the same MI cable
Very fast response-time which allows temperature measurement of very short temperature variations
Flexible Heated Hoses
THERMOCOAX ISOPAD hoses are designed and manufactured to optimise heat uniformity and control characteristics using an integrated temperature sensor and evenly distributed resistive heating elements.
THERMOCOAX ISOPAD Heated Hoses
INNER HOSE : Polytetrafluoethylene (PTFE) from -70°C to 250°C
STAINLESS STEEL BRAIDING : High pressure application with up to 3 layers for operational pressures of up to 500 bar @ 24°C
HEATING ELEMENT and SENSOR : Wound around the hose for uniform heat density. Sensor type k or RTD
FLEECE: Ensures the sensor and heater remain unchanged during repeated manipulations
Decades of engineering experience ensure the hose will maintain the medium being transferred at an even, pre-set temperature, avoiding hot spots or changes in viscosity, eliminating condensation, degradation and crystalization
Can be customized in terms of length, composition
The chart below shows the diversity of standard solutions. Do not hesitate to contact us for more information :